PayPal Adaptive
Sales price without tax
55,00 €
Simplify the revenue split between multiple vendors and marketplace shops.
Important: Adaptive Payments is now a limited release product. It is restricted to select partners for approved use cases and should not be used for new integrations without guidance from PayPal.
PayPal Adaptive Payment is useful for marketplace, affiliate payments, ecommerce sites, supplier payments, partner splits.
How does the PayPal Adaptive Payment works?
There are 2 modes of payments:
parallel
chained with instant payment or delayed payment
Parallel Payments
A parallel payment is a payment from a sender that is split directly among receivers. Parallel payments are useful in cases when a buyer intends to make a single payment for items from multiple sellers. Examples:
a single payment for multiple items from different merchants, such as a combination of items in your inventory and items that partners drop ship for you.
purchases of items related to an event, such as a trip that requires airfare, car rental, and a hotel booking.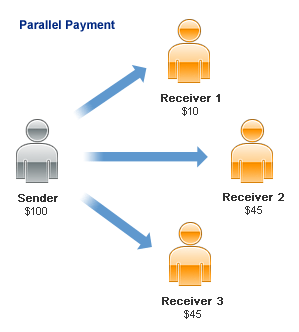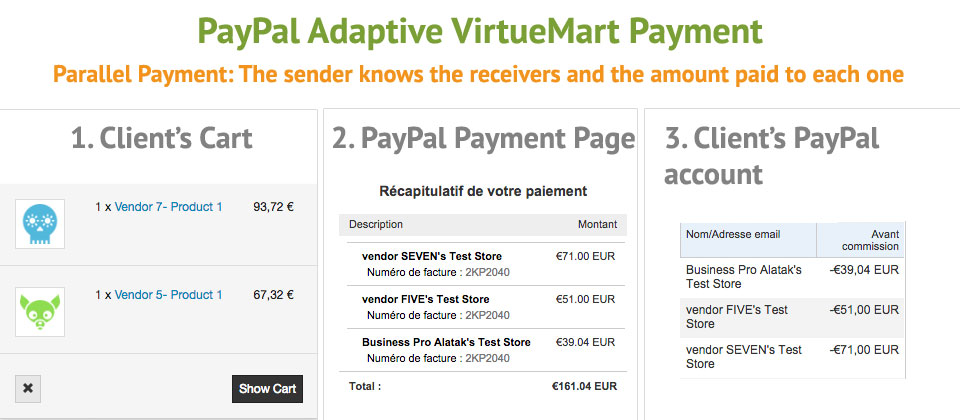 Chained Payments
A chained payment is a payment from a sender that is indirectly split among multiple receivers. The sender pays a receiver (the main vendor or primary receiver) which passes part of the payment to other receivers (secondary receivers). Chained payments are useful in cases when the primary receiver acts as an agent for other receivers. The sender deals only with the primary receiver and does not know about the secondary receivers, including how a payment is split among receivers. The following example shows a sender making a payment of $100: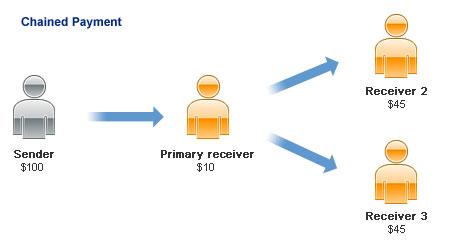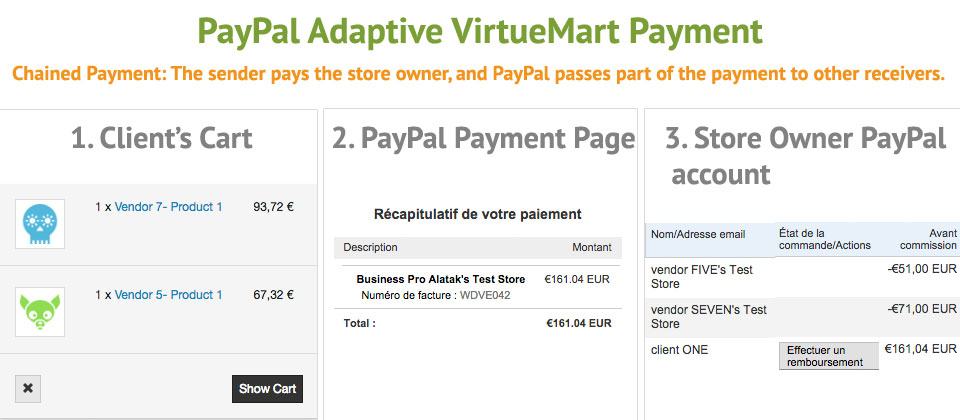 In this example, the store owner receives 161.04€, and PayPal passes automatically 51 € to vendor Five, and 71€ to vendor Seven. The remaining 39.04 € is the store owner commission.
Delayed Chained Payments
By default, payments to all receivers in a chained payment are immediate. However, you can choose to delay a payment to a secondary receiver. For example, as primary receiver, you may require secondary receivers to perform some action, such as shipping goods or waiting for expiration of a return period, before making payment. To complete the payment, you must explicitly execute a payment to secondary receivers after the sender pays you. The payment must occur within 90 days, after which you cannot complete the payment as part of the original chained payment.
PayPal Fee Payments in Paypal adaptive
You can specify who pays these fees. Fee payment configurations include:
The customer pays the PayPal Fee.
Receiver Pays the Fee in a Parallel Payment
Each Receiver Pays the Fee in a Chained Payment
Primary Receiver Pays the Fee in a Chained Payment
How are calculated the rates paid to the vendor?
They are completely configurable by the site owner. They can be a flat rate or a percent and per vendor by the mean of the marge type calculation rule.
PayPal Adaptive Payment is compatible with VMvendor component.
plgvm_payment_alatak_paypaladaptive_1.0.zip
plgvm_userfield_alatak_paypaladaptive_1.0.0.zip

Platinium since 2012